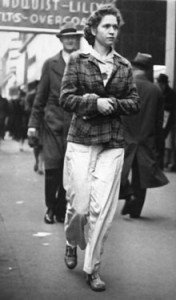 What had started out as a simple request to hear some stories about my Grandpa had now turned into a true project.
In Part One of this series I described how the idea of a book for Mom had come about. Then in Part Two I described part of the process that went on to create that book. In this third of four installments I'm going to describe the rest of the process – and some things I discovered while in the midst of that process.
Mom had pretty much been given free rein to write about her memories. It seemed like imposing organizational structure would have taken some of the fun away from her writing. So to start each writing session she would fire up the notebook computer, open the simple editor, and begin writing the next remembrance at the top of the document.
That was to prove to be a bit of a nightmare.
This wasn't evident, however, until I started trying to organize the material for publication: All the stories were in random chronological order! For me, this was where the real work (and much of the true joy) began. After a couple of failed attempts to put things in order, I began to conduct interviews with Mom, getting her to put approximate dates on each of the stories. Several intensive sessions of cutting and pasting then put the stories in chronological order. Over the next three months the interviews continued, about once a week in person, but nearly an hour every evening by phone.
Then came the scanning and cleaning of photos Mom had picked out from her enormous collection, and discussing where they would fit with the text that had been written.
After the text and the photos were ready the book went into page layout, which took the better part of two weeks' worth of evenings. A cover was created, and the entire book was sent to an on-demand publisher, where an author's proof copy was made and sent to us at Christmas time in 2011.
All the time we were working on the book, I made sure Mom had the impression we were pretty much going to take the pages of the stories and send them down to the local office supply store to be copied and stapled together. She never had an inkling that her memoirs would be published as a real book.
Anyone who knows my Mom will tell you that she doesn't show much emotion. But there are three occasions I can remember her getting pretty pumped and smiling from ear to ear. The first was the time Carol and I took Mom to Disneyland, and we snapped her picture with her arm around The Mouse. The second was when she got baptized in her living room as an adult (long story). But although I don't have a photo of her when she opened her Christmas present and found the book inside, I'll never forget the look on her face, and her one-word reaction: "Wow!". Although that was almost exactly two years ago, I can still feel the blessing-rush when I think about it.
I'd like to end this installment by relating an incident that happened just before we started the final editing.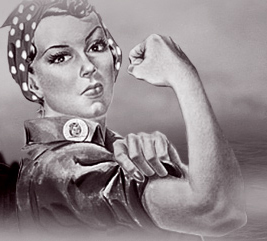 The content seemed just a little bit short, and I felt we needed a little more before the book was completed. Mom was having Writer's Block and was telling me she couldn't remember any more stories. So I set up a video camera and began to interview her. I had been most interested in what she did to support the effort during World War II, so I concentrated mainly on that portion of time. She had worked as a riveter, building the structural framework of B-17 bombers at Boeing in Seattle. Like many women in WWII, she had taken a job normally associated with a man, but the men were serving in the military. (Someone came up with a fictional character they dubbed "Rosie the Riveter" who came to represent those female workers.)
I started asking questions about her job at Boeing – how she got there from her apartment, when she worked, where she ate lunch – anything to get her talking. During that 20-minute interview I was in for two surprises.
First, after several introductory questions I asked which plane she worked on. Now my Mom has a severe case of Kyphosis – a over-curvature of the upper back that forces her to look down at her plate when seated at the table. But when I asked the question about the plane, she straightened up, looked me straight in the eye, and said – in a voice more clear than I had heard in years – "The B-17 – the 'Flying Fortress'!" I was truly taken aback by the forcefulness of her answer.
The second surprise came a few minutes later, when I asked if anything unusual ever happened at her job.
She told me about one day she was going in on swingshift, and from the bus she saw armed military guards on both sides of the street leading into Boeing Plant #2 where she worked. About an hour after her shift began, the big bay doors on the hangar opened, and an open-topped car drove in and parked about 100 feet away from where Mom was standing. In it was Franklin D. Roosevelt, the President of the United States!
In Part Four I will conclude this story. In that installment I'll reveal why I wrote this post, and the surprising events that resulted from publishing the book.
________________________
PS:  If you liked this article, please let your friends know about it. Email them, or use the icons below to connect to your favorite social network.