If you have read Parts One, Two and Three of this post, you know about the book and how it got published. Our intent with that book was to give copies to a few relatives and leave it at that.
Little did we know the book would take on a bit of a life of its own – and provide some interesting adventures in the process.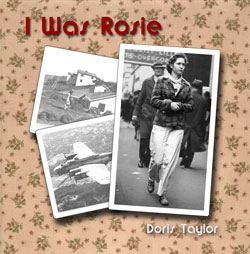 We sent out several copies of the book to relatives, and soon we were getting requests for several more copies. It seems we failed to factor in how many lives Mom had touched, and the fact she was the last of her generation in her family. People in the mobile home park where she lived found out about the book and immediately wanted copies. (To our surprise, one of the local residents grew up just a short distance from where Mom grew up in Eastern Washington, and knew some of the same families!)
We reordered multiple copies of the book several times, and always seemed to sell out. It was all a lot of fun.
But we had another surprise coming.
It turns out there is a group of women, located in the Seattle area, whose passion is to promote the inclusion of women into highly skilled trades. The name of the group is Washington Women in Trades (WWIT), and their inspiration for what they do is the women – the Rosies – who entered the workforce in support of the national efforts to win World War II. I'm not certain how the connection was made (I think my wife, Carol was the catalyst), but Mom got together with the gals at WWIT.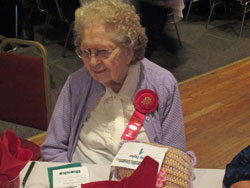 I have to say, these ladies love and respect Rosies in ways that are difficult to describe. But they have two thrusts each year that put their Rosies in the forefront. The first is the annual Rosie banquet, which they call their "Big Dream Dinner". Mom was invited as an honored guest to the banquet, and as part of the evening's festivities she was brought up to the stage with the other Rosies, introduced to the audience, given a beautiful red rose and much applause. My Mom had never experienced anything like that, and truly, she really didn't know what to do with it. Her friend, Kay Anderson, who Mom had met while working at Boeing, was much more at home with the attention – in fact I think she was enjoying it immensely.
It was a magic evening. But earlier in the summer we experienced an even greater side effect of writing the book.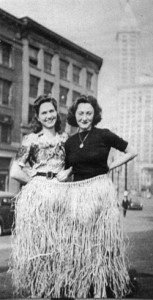 The second effort WWIT makes to honor Rosies is their annual Rosie the Riveter Calendar. Each year volunteers at WWIT produce a calendar that showcases 12 "calendar girls" – surviving Rosies, complete with some old snapshots, some favorite recollections, and a current portrait shot.
For Mom (and her friend Kay) this adventure began in the Summer of 2012. They were invited to the Museum of Flight for an afternoon of fun and interviews. The MOF, located in South Seattle, has one of the remaining B-17 bombers as one of its exhibits. (Unfortunately, it was undergoing maintenance while we were there, so Mom couldn't climb in for a look.) But it is truly an inspirational place, and I highly recommend a visit if you can fit it in sometime.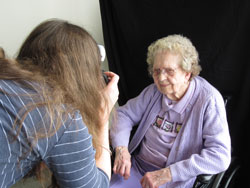 The afternoon consisted of interviews conducted by Alice and Robin, followed by a photo shoot where Robin shot about 50 closeup photos each of Mom and Kay. Afterward we all toured the museum and then Carol and I took Mom and Kay to an upscale hamburger joint (Red Robin) and bought them burgers that delighted them. They felt like rockstars! My unending thanks to Alice and Robin, and also to Cindy Payne who oversees much of the public relations for WWIT.
---
I'm writing this almost exactly a month after my Mom's passing. She led an exemplary life for more than 95 years and was always known for her kindness and generosity. As my cousin Mary says, "I will always cherish the times we were together and will always cherish her memory as a wonderful Christian wife and mother." She was for the greatest part a quiet and humble person, but she could also be very stubborn about what she truly believed in (when I inherited that trait from her I called it persistence). I can only say that I am proud to be her son. Her monument marker will contain these simple words: "THE BEST MOM EVER". That pretty much says it all.
Why I Wrote This Post
I was amazed at the many benefits that resulted by simply being curious about an offhanded remark my mother made about my grandfather! After the dust settled I not only got to know my grandpa much more deeply than I ever had before (he had passed away before I was born), but many of my other relatives as well. Gaps were filled in the family tree in my head. But most of all, I found the perfect excuse to spend intentional, quality time with my Mom. During that time I learned far more about her than I had just living with and around her for more than sixty years. And as a result, I came to understand and love her more than I ever had before.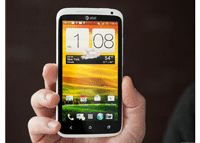 So let me encourage you: Is your Mom or Dad getting older? Let me suggest something that will bless both them and you – spend some quality time with them, and record their responses to your interviews with them. You may not want to make the effort to create a book; just simple video or even audio recordings will do nicely. This is so easy to do today with the technology we have available. You can even use your cell phone.
Grab old photographs and mark them with identifying numbers, and then refer to them as you talk. Guaranteed you will remember stories you have forgotten – and you will discover new stories that will keep you spellbound. You will be blessed in the process, and you will bless your Mom or Dad with the greatest gift you could possibly give them – your undivided attention.
So listen to your Mom (or Dad). Someday you'll be so glad you did.
________________________
PS:  If you liked this article, please let your friends know about it. Email them, or use the icons below to connect to your favorite social network.