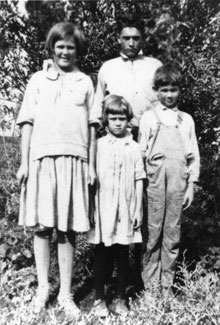 "You look at me when I'm speaking to you, young man!" (Or "young lady".)
We've all experienced it. It was our mom's or dad's way of getting our focused attention after we had somehow gone astray. To get us to really listen.
It was the part of classic correction that came just after you had been caught red-handed (or ratted out by your brother or sister) and just before the sermon – which was inevitably followed immediately by the punishment.
You probably learned that lesson well. So well, in fact, that you likely as not used that same proven and reliable scenario with your own kids.
A while back I gained a new appreciation of the concept of listening to a parent – in this case, my mom.
I was visiting with her at her home when she made an off-handed remark about my grandfather, who had died several years before I was born. For that reason I had never known him – but I had always, in my heart, wanted at least to know more about him. For whatever reason Mom seldom talked about him.
"Tell me more about Grandpa," I asked. "Tell me that story about him selling his crops."
I was to find out that day that although he was a farmer (which I had always known), he was at heart a business man, and a graduate of a business school.
I asked Mom why she had mentioned my grandfather that day. She told me that my cousin, Krista, had asked her to write down some of the things Mom had remembered over the years.
As proof she pulled out a 6-by-9 writing tablet and showed me the scribbles that recorded bits and pieces of stories and facts she had been recalling in a manner only she could interpret. Everything was in stream-of-consciousness format, with circles and arrows reminiscent of "Alice's Restaurant". It was pretty amazing.
It was at that moment that I was hit by an inspiration. It seemed so simple, but I had no idea the impact it would have on my life – and the life of others.
(To be continued in Part Two of this series.)
________________________
PS:  If you liked this article, please let your friends know about it. Email them, or use the icons below to connect to your favorite social network.